The Denham
Cocoa Calf Suede
Regular price
Sale price
$3,700.00
Sizing Chart
DENHAM

 

36
38
40
42
44
46
48
50
52
Chest
39 1/4
41 1/4
43 1/4
45 1/4
47 1/4
49 1/4
51 1/4
53 1/4
55 1/4
Sleeve length
24
24 1/2
25
25 1/2
26
26 1/2
27
27 1/2
28
across shoulder
17 1/2
18
18 1/2
19 1/2
20

   

20 1/2
21

   

21 1/2
22

   

sweep
38
40
42
44

   

46
48

   

50
52

   

54
front length from hps
23 5/8
24 1/8
24 5/8
25 1/8
25 5/8
26 1/8
26 5/8
27 1/8
27 5/8
LOWRY
36
38
40
42
44
46
48
50
52
Chest
40 3/4
42 3/4
44 3/4
46 3/4
48 3/4
50 3/4
52 3/4
54 3/4
56 3/4
Sleeve length
24 1/2
25
25 1/2
26
26 1/2
27
27 1/2
28
28 1/2
across shoulder
17 7/8
18 3/8
18 7/8
19 3/8
19 7/8
20 3/8
20 7/8
21 3/8
21 7/8
sweep
41 5/8
43 5/8
45 5/8
47 5/8
49 5/8
51 5/8
53 5/8
55 5/8
57 5/8
front length from hps
26 1/4
26 3/4
27 1/4
27 3/4
28 1/4
28 3/4
29 1/4
29 3/4
30 1/4
HUTTON
36
38
40
42
44
46
48
50
52
Chest
39 1/2
41 1/2
43 1/2
45 1/2
47 1/2
49 1/2
51 1/2
53 1/2
55 1/2
Sleeve length
24 1/4
24 3/4
25 1/4
25 3/4
26 1/4
26 3/4
27 1/4
27 3/4
28 1/4
across shoulder
17 3/4
18 1/4
18 3/4
19 1/4
19 3/4
20 1/4
20 3/4
21 1/4
21 3/4
sweep
39

   

41

   

43

   

45

   

47

   

49

   

51

   

53

   

55

   

front length from hps
27 5/8
28 1/8
28 5/8
29 1/8
29 5/8
30 1/8
30 5/8
31 1/8
31 5/8
TRAPP
36
38
40
42
44
46
48
50
52
Chest
39 1/4
41 1/4
43 1/4
45 1/4
47 1/4
49 1/4
51 1/4
53 1/4
55 1/4
Sleeve length
25
25 1/2
26
26 1/2
27
27 1/2
28
28 1/2
29
across shoulder
17 5/8
18 1/8
18 5/8
19 1/8
19 5/8
20 1/8
20 5/8
21 1/8
21 5/8
sweep
38 3/8
40 3/8
42 3/8
44 3/8
46 3/8
48 3/8
50 3/8
52 3/8
54 3/8
front length from hps
24 3/8
24 7/8
25 3/8
25 7/8
26 3/8
26 7/8
27 3/8
27 7/8
28 3/8
ICON
36
38
40
42
44
46
48
50
52
Chest
39 1/2
41 1/2
43 1/2
45 1/2
47 1/2
49 1/2
51 1/2
53 1/2
55 1/2
Sleeve length
24 3/4
25 1/4
25 3/4
26 1/4
26 3/4
27 1/4
27 3/4
28 1/4
28 3/4
across shoulder
18 1/4
18 3/4
19 1/4
19 3/4
20 1/4
20 3/4
21 1/4
21 3/4
22 1/4
sweep
37 3/4
39 3/4
41 3/4
43 3/4
45 3/4
47 3/4
49 3/4
51 3/4
53 3/4
front length from hps
24 1/2
25

   

25 1/2
26

   

26 1/2
27

   

27 1/2
28

   

28 1/2
LONELY HEART
36
38
40
42
44
46
48
50
52
Chest
40 1/4
42 1/4
44 1/4
46 1/4
48 1/4
50 1/4
52 1/4
54 1/4
56 1/4
Sleeve length
25
25 1/2
26
26 1/2
27
27 1/2
28
28 1/2
29
across shoulder
18 1/2
19
19 1/2
20
20 1/2
21
21 1/2
22
22 1/2
sweep
40 1/8
42 1/8
44 1/8
46 1/8
48 1/8
50 1/8
52 1/8
54 1/8
56 1/8
front length from hps
31

   

31 1/2
32

   

32 1/2
33

   

33 1/2
34

   

34 1/2
35

   

EMMETT
36
38
40
42
44
46
48
50
52
Chest
39 1/4
41 1/4
43 1/4
45 1/4
47 1/4
49 1/4
51 1/4
53 1/4
55 1/4
Sleeve length
25
25 1/2
26
26 1/2
27
27 1/2
28
28 1/2
29
across shoulder
17 5/8
18 1/8
18 5/8
19 1/8
19 5/8
20 1/8
20 5/8
21 1/8
21 5/8
sweep
38 3/8
40 3/8
42 3/8
44 3/8
46 3/8
48 3/8
50 3/8
52 3/8
54 3/8
front length from hps
24 3/8
24 7/8
25 3/8
25 7/8
26 3/8
26 7/8
27 3/8
27 7/8
28 3/8
DESCRIPTION

Daily armor. Designed with function and tradition in mind, the Denham combines a steady, wear-everyday timelessness with exquisite detailing. It features 4 body pockets, solid brass snaps, and durable double needle stitching. Made with hand dyeing techniques, each jacket will have its own distinctive characteristics. This Denham is unlined, making it the perfect piece for year-round wear.



More about The Denham
- 100%  Full grain Calf Suede
- Unlined
- Antique Brass snap closures, 100% solid brass
- Made in the USA
- Clean professionally by a leather expert


Please review our

 

sizing chart

 

to ensure the best fit.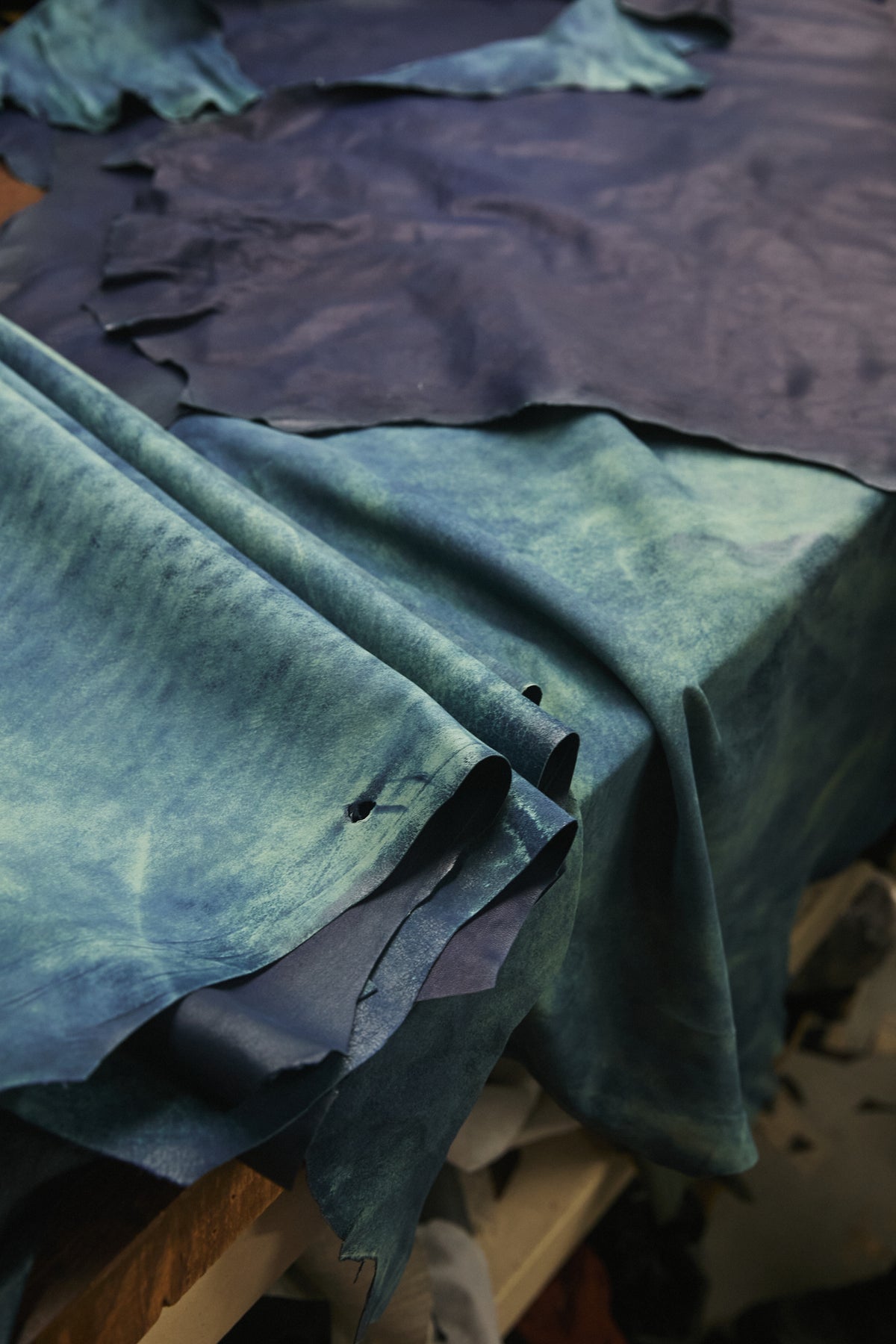 Behind The Process
There's not one part of our process that doesn't have the Savas stamp of attention to detail.
This spans everything we do in our construction (material, fit, style, function). And these are our cornerstones, our guiding lights. Our diligence in these domains make our quality what it is and the experience of our pieces one of art and of technical mastery.
Evolution and inspiration are the currents that run through our construction, with a bold base of quality over everything.
Material is our leather, common-sense sustainably sourced, the quality of our hides, the way we stretch our leather, how we process it. The way we're constantly innovating. Discovering new dyes and ways to stretch ourselves and our artistry.
Fit is never compromising or cutting corners.
Style is how we create pieces that seem defy eras and age to become an extension of you that remains yours for life.