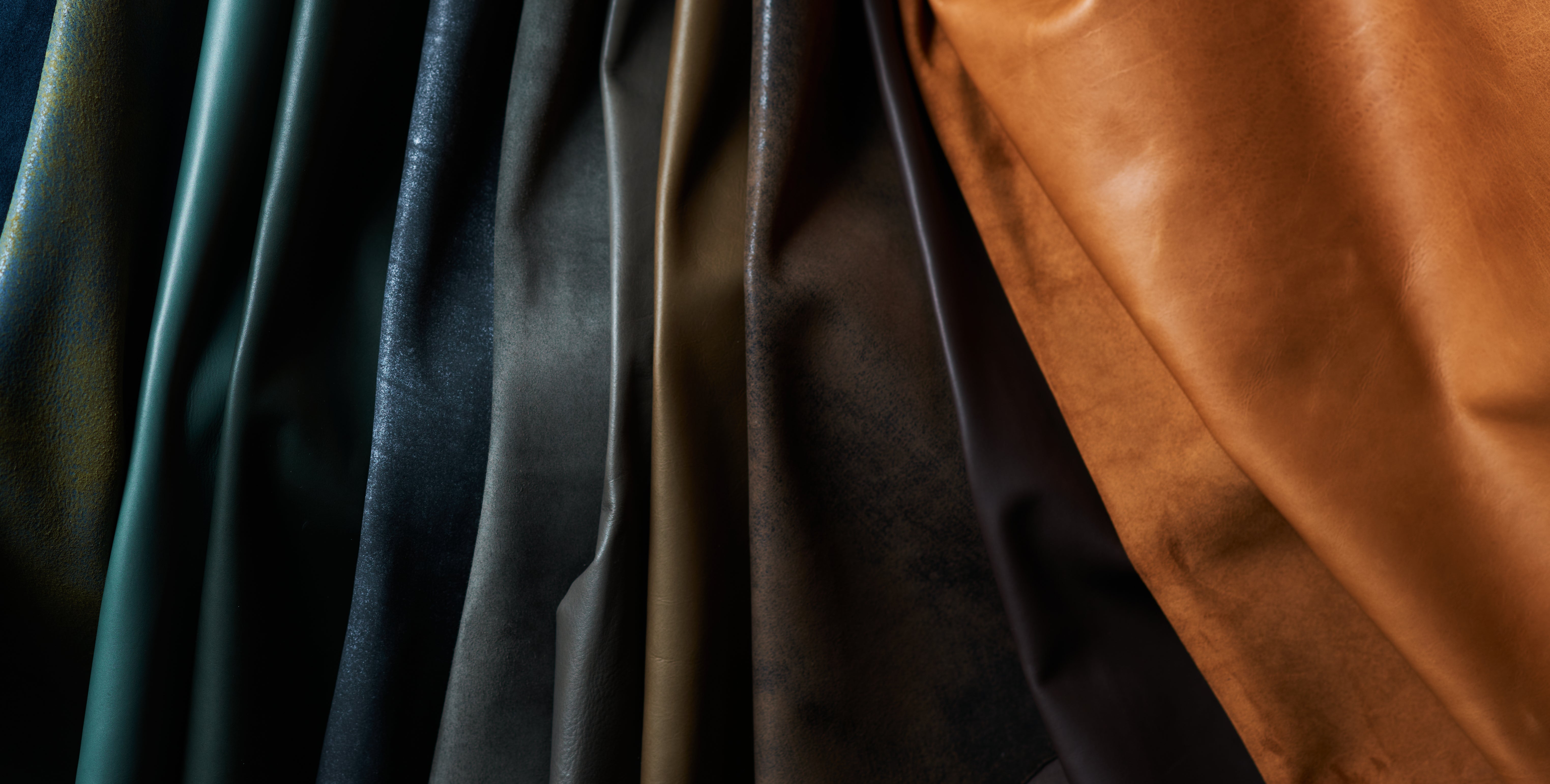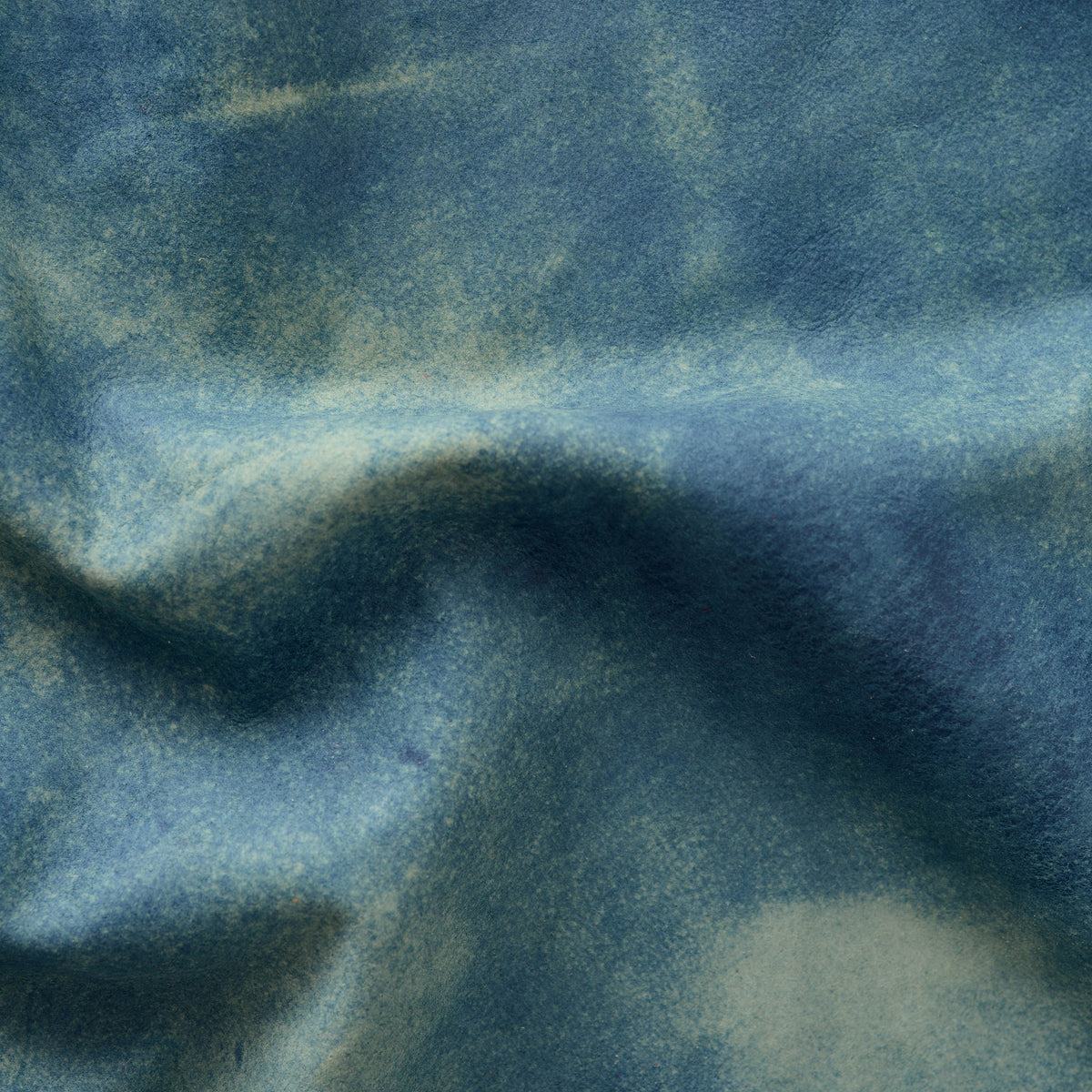 Antico Lamb
The one that started it all. A triple dye process that creates a unique texture - be it the patina of an old rusty car or sand drying at the shore; each skin is treated with this process in a unique colorway. Our skin is wet dyed, dried, sprayed, and finally sanded with a homemade sand wheel in the tannery - an incredibly unique pattern.
This is a full-grain leather, meaning we finish the suede side and the leather side. Allowing for lightweight, unlined garments with a smooth interior.
.5-.6mm thickness
Layered Lamb
The desire for vintage wear is alive and well inside of all of us. We created our Layered Lamb to bring that desire to reality. A fully finished hide is coated with a top, contrasting layer. These dye steps are the foundation beneath a top coat, over time, will become exposed - creating that "hundred-year old" worn effect. Wear it, toss it around, travel with it, and share your adventures - it's going to age with you and possibly with even more grace.
.6-.7mm thickness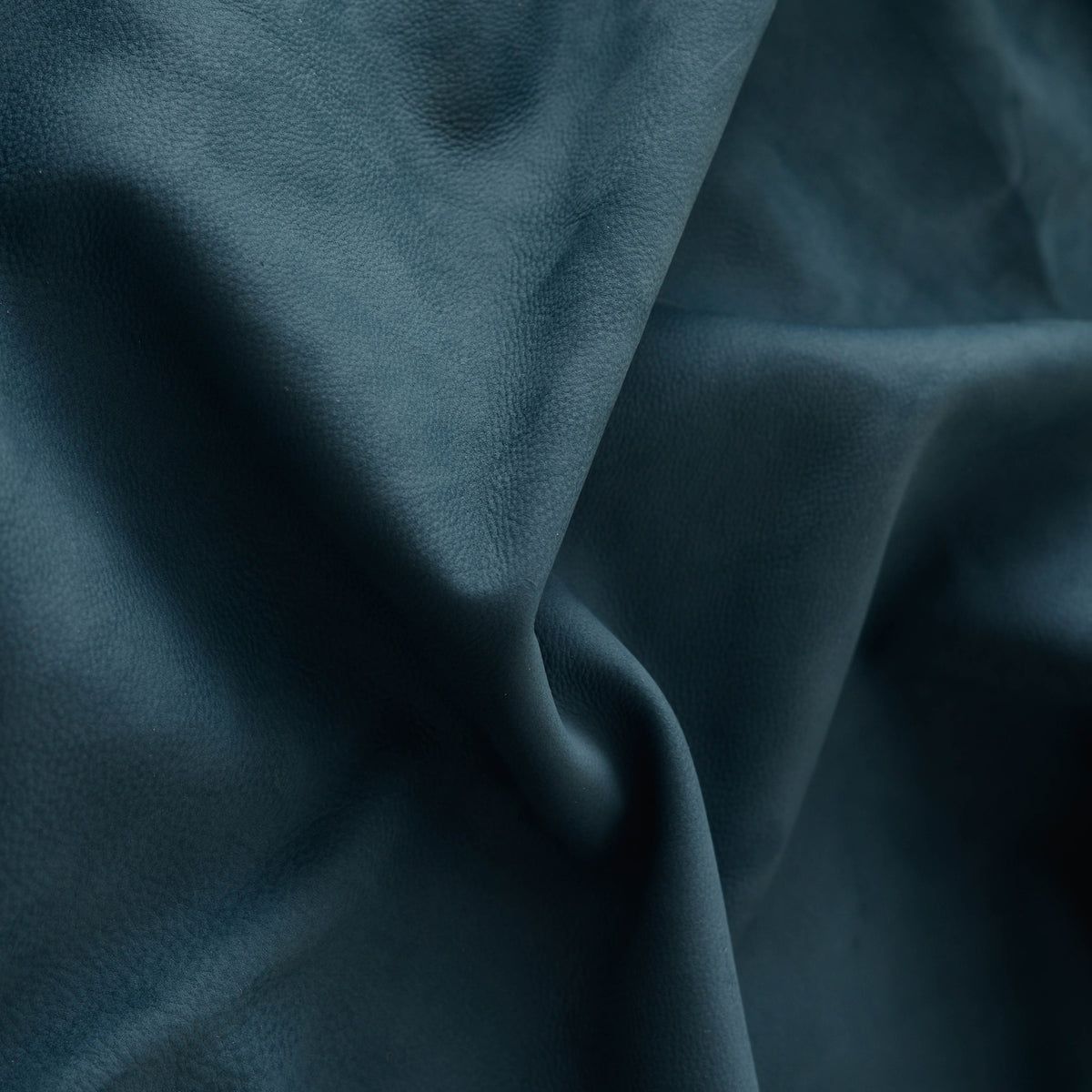 Sanded Calf Nubuc
Nubuc is a material of its own kind. A reminder of suede, but with a softer hand and a visible leather grain. The hard exterior of the grain-side is ever-so-lightly sanded off, to maintain the characteristics, but give a matte and soft finish to the material. Our Sanded Nubuc is treated with a water resistancy membrane, so you can wear it on days that are gray.
.7-.8mm thickness
Chateau Calf
Our finest calf. Grade 1 selected hides are tanned, waxed, and tumbled to create the smoothest and supple leather. Elegance exudes the subtlety of the natural grain - each piece is cut in a way to showcase the large, flawless panels. We create this leather in multiple weights - paper-weight for warm climates to heavyweight for our footwear. This is the pinnacle when you are in the market for your perfect black jacket.
.7-.8mm
Grano Deer
Grano deer is our hometown leather. It is tanned in the United States, and wild hunted. Each hide features a supple hand with a thickness that somehow feels light weight. It drapes around you, and shows off the natural pebbled grain of the leather. Grano can be dyed to any color, and will be more and more beautiful as time goes on. Because it is wild in nature, each hide has its own patterns, and some scarring may appear.
.8-.9mm thickness
Hair-on Calf
With an almost liquid effect, our hair calf is very soft and polished. The lightness of this material is surprising and used for garments and footwear. Over many years, the hair will wear away in areas of high use, creating a unique pattern. Hair calf is naturally water resistant.
.8-.9mm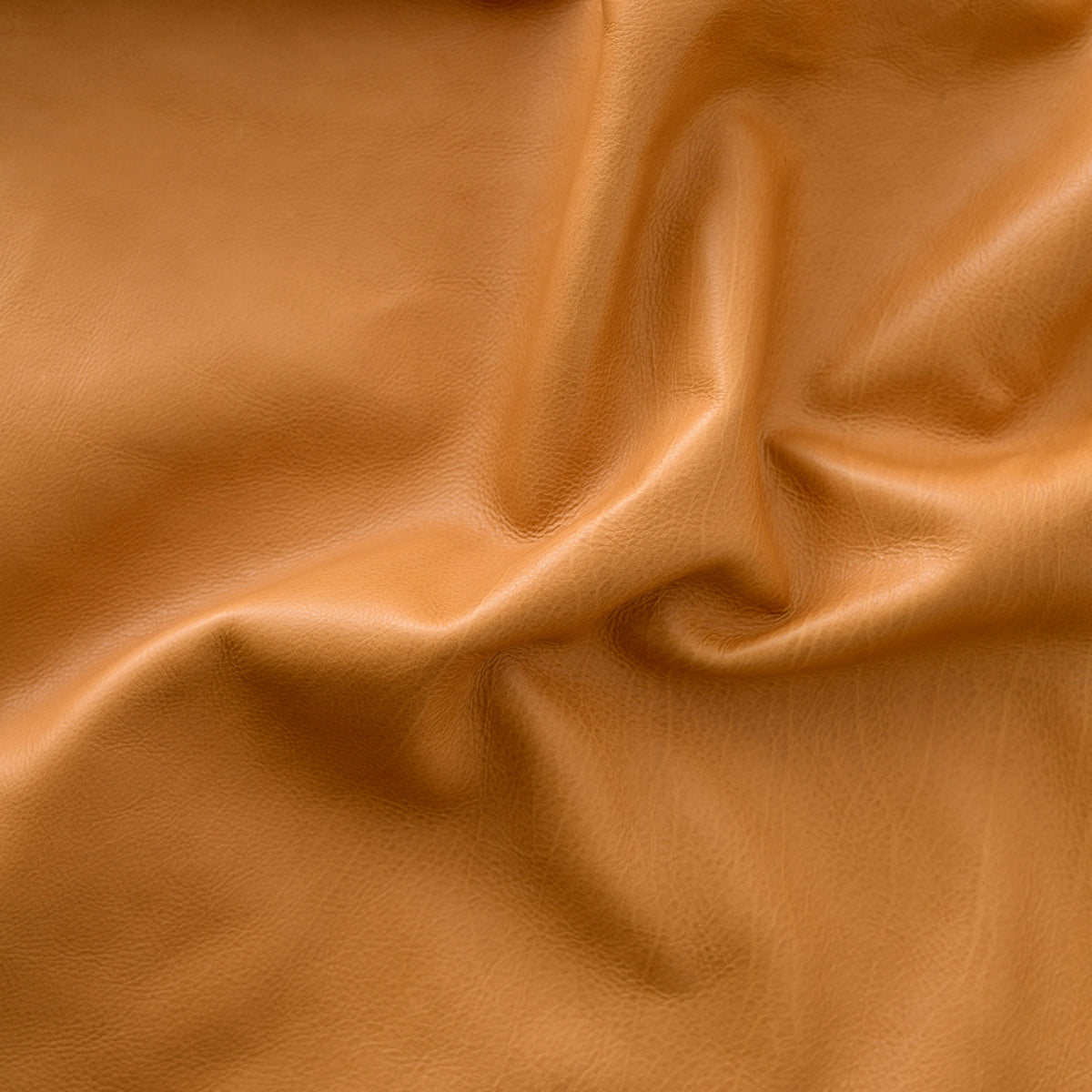 Ironed Calf
Our ironed calf is a partially veg-tanned leather of which we leave the natural markings on the hides. The grain is physically pressed to be flat, with the intent that as the garment is worn, the grain will, over time, break through the waxed top layer and create its patina and pattern. Our heavy waxing process creates a depth of color from high-to-low, showing off the beautiful characteristics. This wax also means durability - have no fear. It will only improve with each wear.
.7-.8mm thickness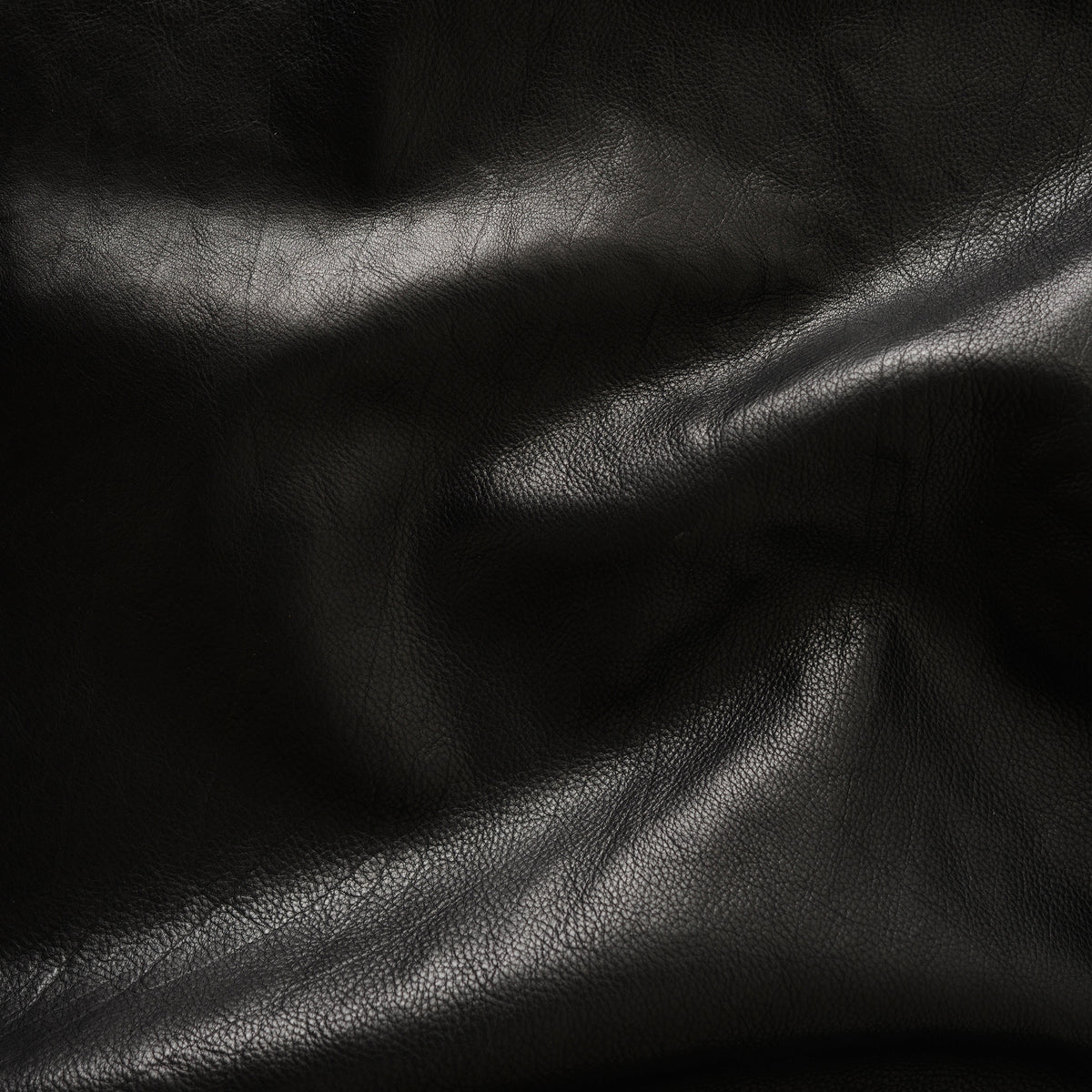 London Calf
The London Calf has a unique, natural grain that often resembles deer. It is perfectly pebbled, with a prominent shine - the luxury version of the vintage goat-skin jackets of times gone past, for the most classic and rough and tumble.
.8-.9mm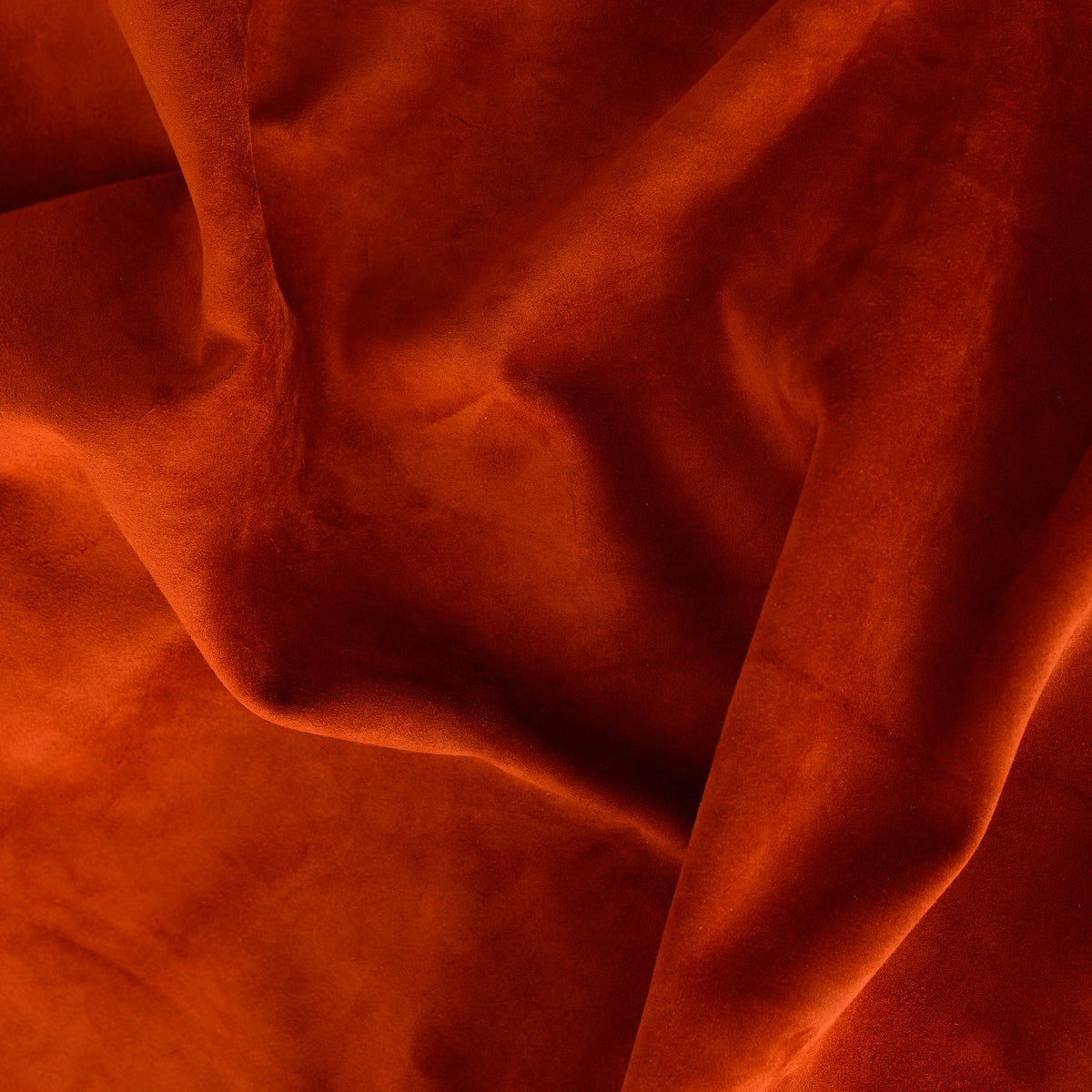 Lustro Calf Suede
Lustro calf is just as it sounds. Lustrous and elegant, tough and flawless. Each lustro hides are top-selection and chosen for its leather AND suede sides. We finish both entirely so you can have an unlined suede jacket with a supple leather interior or a glossy, waxed leather piece with a beautifully embroidered lining. Each of our hides is buffed to increase the high-low lustrous quality of the suede and treated with our "Idro" water-resistant membrane. Over time, you may also fall in love with an elbow crease or two. It's one of the finest signs of wear and patina that only you can create.
.7-.8mm thickness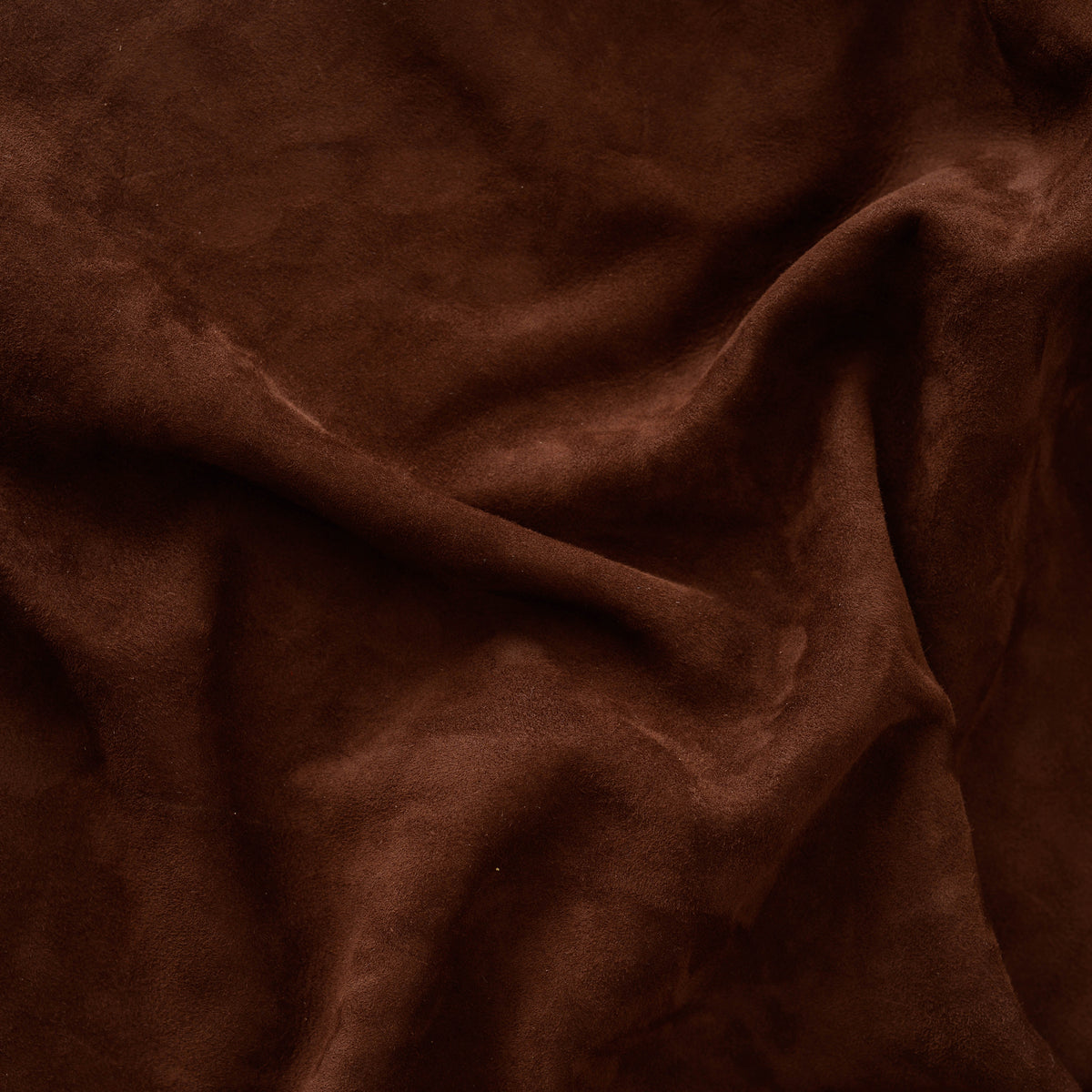 Melrose Incrociato Suede
Incrociato provides the strength of goat leather with the softness of lamb. We use full grain hides, where the leather side gets finished as it would if used for the garment's exterior. This process gives you a leather interior, which creates the softest and lightest suede garments suitable for year-round wear. Our suede treated with our "Idro" water-resistant membrane. Not to be worn as a raincoat, but equally not going to turn you into Seinfeld.
.5-.7mm thickness
To have a piece made just for you, shoot us a message.
shopping cart (
0

)

||title|| was added to your cart.

||count|| items were added to your cart.