The Woodmont Belt
Cheetah Print Hair Calf
Regular price
Sale price
$375.00
Sizing Chart
DENHAM

 

36
38
40
42
44
46
48
50
52
Chest
39 1/4
41 1/4
43 1/4
45 1/4
47 1/4
49 1/4
51 1/4
53 1/4
55 1/4
Sleeve length
24
24 1/2
25
25 1/2
26
26 1/2
27
27 1/2
28
across shoulder
17 1/2
18
18 1/2
19 1/2
20

   

20 1/2
21

   

21 1/2
22

   

sweep
38
40
42
44

   

46
48

   

50
52

   

54
front length from hps
23 5/8
24 1/8
24 5/8
25 1/8
25 5/8
26 1/8
26 5/8
27 1/8
27 5/8
LOWRY
36
38
40
42
44
46
48
50
52
Chest
40 3/4
42 3/4
44 3/4
46 3/4
48 3/4
50 3/4
52 3/4
54 3/4
56 3/4
Sleeve length
24 1/2
25
25 1/2
26
26 1/2
27
27 1/2
28
28 1/2
across shoulder
17 7/8
18 3/8
18 7/8
19 3/8
19 7/8
20 3/8
20 7/8
21 3/8
21 7/8
sweep
41 5/8
43 5/8
45 5/8
47 5/8
49 5/8
51 5/8
53 5/8
55 5/8
57 5/8
front length from hps
26 1/4
26 3/4
27 1/4
27 3/4
28 1/4
28 3/4
29 1/4
29 3/4
30 1/4
HUTTON
36
38
40
42
44
46
48
50
52
Chest
39 1/2
41 1/2
43 1/2
45 1/2
47 1/2
49 1/2
51 1/2
53 1/2
55 1/2
Sleeve length
24 1/4
24 3/4
25 1/4
25 3/4
26 1/4
26 3/4
27 1/4
27 3/4
28 1/4
across shoulder
17 3/4
18 1/4
18 3/4
19 1/4
19 3/4
20 1/4
20 3/4
21 1/4
21 3/4
sweep
39

   

41

   

43

   

45

   

47

   

49

   

51

   

53

   

55

   

front length from hps
27 5/8
28 1/8
28 5/8
29 1/8
29 5/8
30 1/8
30 5/8
31 1/8
31 5/8
TRAPP
36
38
40
42
44
46
48
50
52
Chest
39 1/4
41 1/4
43 1/4
45 1/4
47 1/4
49 1/4
51 1/4
53 1/4
55 1/4
Sleeve length
25
25 1/2
26
26 1/2
27
27 1/2
28
28 1/2
29
across shoulder
17 5/8
18 1/8
18 5/8
19 1/8
19 5/8
20 1/8
20 5/8
21 1/8
21 5/8
sweep
38 3/8
40 3/8
42 3/8
44 3/8
46 3/8
48 3/8
50 3/8
52 3/8
54 3/8
front length from hps
24 3/8
24 7/8
25 3/8
25 7/8
26 3/8
26 7/8
27 3/8
27 7/8
28 3/8
ICON
36
38
40
42
44
46
48
50
52
Chest
39 1/2
41 1/2
43 1/2
45 1/2
47 1/2
49 1/2
51 1/2
53 1/2
55 1/2
Sleeve length
24 3/4
25 1/4
25 3/4
26 1/4
26 3/4
27 1/4
27 3/4
28 1/4
28 3/4
across shoulder
18 1/4
18 3/4
19 1/4
19 3/4
20 1/4
20 3/4
21 1/4
21 3/4
22 1/4
sweep
37 3/4
39 3/4
41 3/4
43 3/4
45 3/4
47 3/4
49 3/4
51 3/4
53 3/4
front length from hps
24 1/2
25

   

25 1/2
26

   

26 1/2
27

   

27 1/2
28

   

28 1/2
LONELY HEART
36
38
40
42
44
46
48
50
52
Chest
40 1/4
42 1/4
44 1/4
46 1/4
48 1/4
50 1/4
52 1/4
54 1/4
56 1/4
Sleeve length
25
25 1/2
26
26 1/2
27
27 1/2
28
28 1/2
29
across shoulder
18 1/2
19
19 1/2
20
20 1/2
21
21 1/2
22
22 1/2
sweep
40 1/8
42 1/8
44 1/8
46 1/8
48 1/8
50 1/8
52 1/8
54 1/8
56 1/8
front length from hps
31

   

31 1/2
32

   

32 1/2
33

   

33 1/2
34

   

34 1/2
35

   

EMMETT
36
38
40
42
44
46
48
50
52
Chest
39 1/4
41 1/4
43 1/4
45 1/4
47 1/4
49 1/4
51 1/4
53 1/4
55 1/4
Sleeve length
25
25 1/2
26
26 1/2
27
27 1/2
28
28 1/2
29
across shoulder
17 5/8
18 1/8
18 5/8
19 1/8
19 5/8
20 1/8
20 5/8
21 1/8
21 5/8
sweep
38 3/8
40 3/8
42 3/8
44 3/8
46 3/8
48 3/8
50 3/8
52 3/8
54 3/8
front length from hps
24 3/8
24 7/8
25 3/8
25 7/8
26 3/8
26 7/8
27 3/8
27 7/8
28 3/8
DESCRIPTION

Your perfect fit. This (finished-to-order) belt is the thing that pulls it all together. Our favorite footwear leathers have been lined in calfskin, and cut into an elegant 1.25" width belt to wear with your favorite jeans. The Woodmont comes with the option of an antique brass or aged silver (sliver-thin) oval shaped buckle. Each belt features a strap with our signature Two Dot rivets. Select your desired length and buckle color below and we will cut them to order, so that yours is just right.

Custom lengths cannot be returned. Lengths are measured based on actual waist circumference. Please contact us for measuring instruction

More about The Woodmont Belt:
100% Calf Hair
Made in Italy, Finished in Nashville
Custom lengths upon request
Ships within one week

Most of these belts are cut to size as requested. Please call or text the shop to request a belt in your size and requested hardware at 615-584-4656 or email rendez-vous@ateliersavas.com.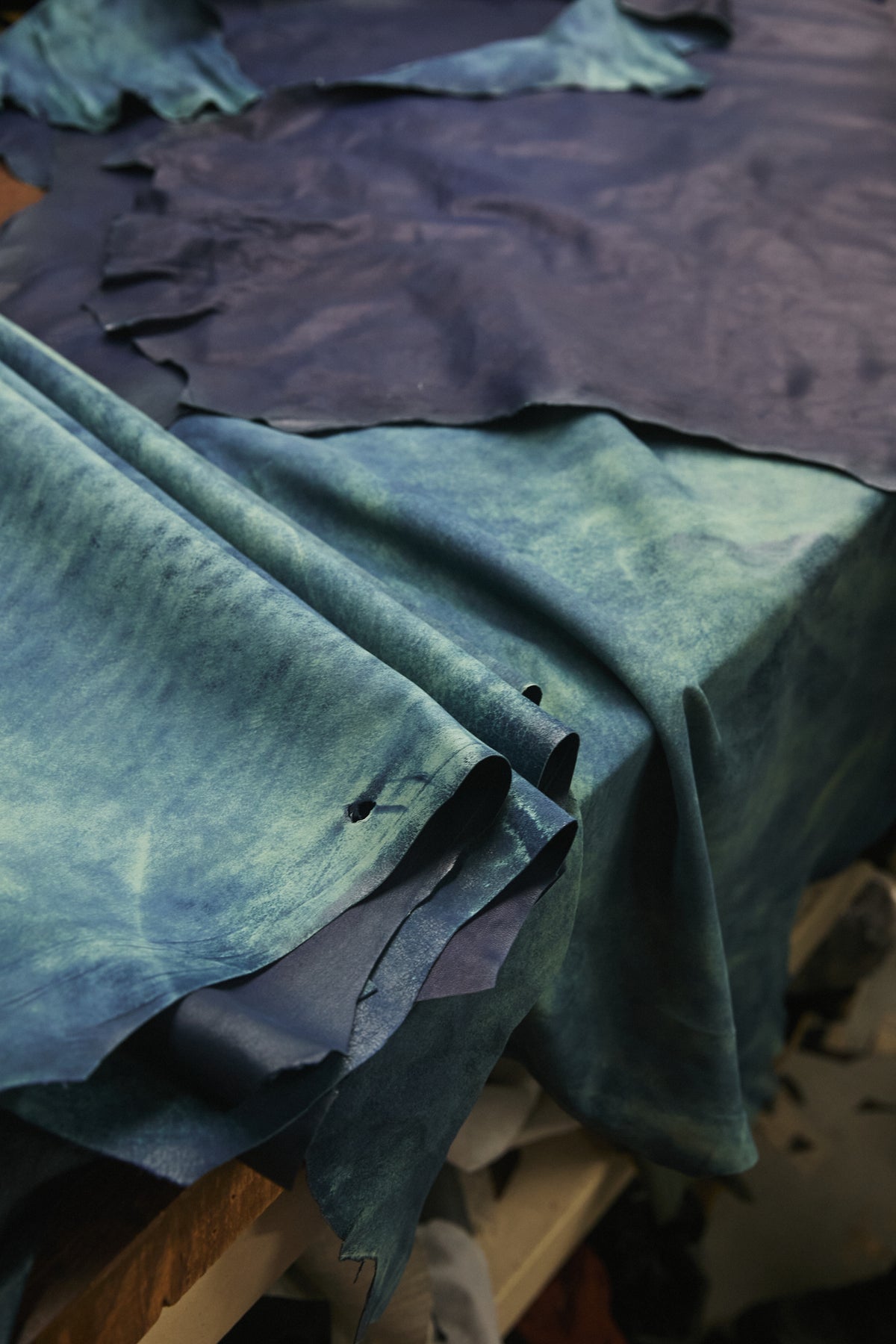 Behind The Process
There's not one part of our process that doesn't have the Savas stamp of attention to detail.
This spans everything we do in our construction (material, fit, style, function). And these are our cornerstones, our guiding lights. Our diligence in these domains make our quality what it is and the experience of our pieces one of art and of technical mastery.
Evolution and inspiration are the currents that run through our construction, with a bold base of quality over everything.
Material is our leather, common-sense sustainably sourced, the quality of our hides, the way we stretch our leather, how we process it. The way we're constantly innovating. Discovering new dyes and ways to stretch ourselves and our artistry.
Fit is never compromising or cutting corners.
Style is how we create pieces that seem defy eras and age to become an extension of you that remains yours for life.